MEDIA RELEASE: Auckland – Wednesday August 5th 2015 – Many locals including Samantha Hayes, "Nanogirl" Dr Michelle Dickinson, "Mother of the Nation" Judy Bailey, "Te Radar" and Dame Rosie Horton, donated pieces of beloved designer clothing items for sale as part of the fashion and entertainment at charity fundraising event, the Absolutely Fabulous Fashion Show, on Saturday, August 1st.
The event, presented by Hospice West Auckland and national business networking organisation BNI NZ and sponsored by Douglas, featured an exciting fashion show with well-known faces such as Deputy Mayor Penny Hulse, Shortland Street Actress Grace Palmer and radio personality Dom Harvey, taking to the catwalk wearing upcycled outfits sourced from donations to Hospice West Auckland op shops. A 'Designer Clothes Sale' featuring garments from the catwalk and more were available to purchase on the night as well as Silent Auctions and raffles.
The efforts led to a total of $40,000 being raised for Hospice West Auckland, who provide specialist palliative care and support at no charge to patients and families living with terminal and life-limiting illness.
Highlights
Comedian MC Michele A'Court's grand "AbFab" entrance and on-stage antics
VIP ticket holders receiving a Trelise Cooper Goodie bag with donated treats and products from supporting businesses
Musician Juliagrace performing a beautiful acoustic set with guitar for the entertainment
Wines provided by Blanc and delicious gourmet canapés from The Luscious Food Store
Michelle Maitland from George Walker Auctions live auction of the special celebrity garments – including Michele A'Court getting into Te Radar's shorts live on stage
Models for the evening: Actress Grace Palmer, Auckland Councillor Linda Cooper, key supporter Chrissie Douglas, Hospice shop volunteers Lisa Tait and Elie van Vugt, radio personality Dom Harvey, Deputy Mayor Penny Hulse, Clarks Organic Meats Butcher Ivan Mansell, Red11 models Georgia Grieve and Lucca Sharplin, palliative care specialists Dr Moira Camilleri and nurse Charlotte George, Social Worker Tanya Suin and Spiritual Care Coordinator David Nuualiitia all from Hospice West Auckland.
The stunning new Te Atatu Peninsula Community Centre filled with hundreds of guests shopping up a storm at the Designer Clothes Sale in support of Hospice.
CEO of Hospice West Auckland, Barbara Williams, acknowledges the support of event partners for the Fashion Show, BNI NZ. "BNI's networking groups up and down the country have supported Hospice for many years and raised over a million dollars for Hospice nationally. Support from the local BNI businesses was of much assistance in growing the event this year; providing logistics, planning and staffing for the big occasion."
Barbara also acknowledges the support of key sponsor for the event Douglas Pharmaceuticals.
"Douglas is a much valued supporter of Hospice West Auckland and Founder Sir Graeme Douglas has been our Patron since 1996. We were thrilled to have Jeff Douglas, Managing Director, continuing their support, with Jeff's wife Chrissie Douglas also walking as one of our fabulous models on the night."
"Our long standing relationships with Douglas and BNI NZ and are very important to us, not only financially but also in terms of engaging with the communities their businesses operate in. I would like to extend my sincere thanks to the many businesses and volunteers who supported our event with donated products, services and time to raise money for Hospice West Auckland."
Vinetta Pearce one of BNI's Director Consultants for West Auckland says, "BNI has a strong presence in West Auckland with many local businesses participating in our groups that are all about creating profitable relationships in the community. Hospice West Auckland approached us because of our strong network, who worked hard and helped get the word out about this fabulous event."
Graham Southwell, National Director for BNI NZ adds, "It's been exciting to work with Hospice West Auckland and use our expertise in BNI to help to collaboratively put on the event," The large total of $40,000 raised for Hospice is a feather in the cap for the businesses in West Auckland who came together to make this event possible."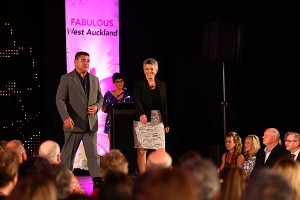 Hospice Spiritual Care Coordinator David Nuualiitia, comedian MC Michele A'Court and Deputy Mayor Penny Hulse

Shortland Street actress Grace Palmer modeling Dame Rosie Horton's donated 'Newspaper' Adrienne Winkelmann blouse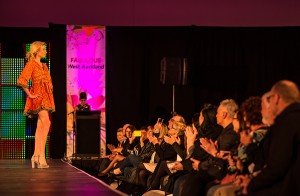 Model Lucca from Red11 Models in the ''Retro' section of the Absolutely Fabulous Fashion Show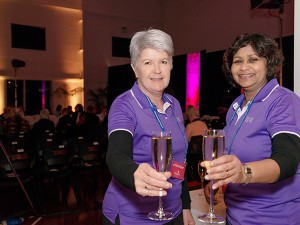 BNI West Auckland volunteers on the night Deborah Kelly and Amali Fonseka