The Business Booster Series is an initiative from BNI's Global Support Team and offers 2+ webinars each week designed to support members during this challenging time with business continuity tips and personal & professional connectivity. This program is evolving over time to better serve your needs.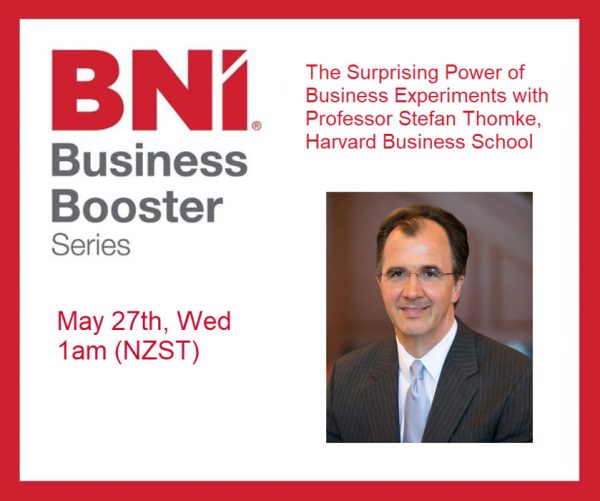 These webinars, open to all BNI members globally, are 50 minutes in duration with 30 minutes of presentation followed by 20 minutes of open Q&A for those on the line to interact directly with the presenter. The presentation sections of these webinars will be recorded and made available to all BNI members on BNI U.
Content is curated to aid member engagement and help you get the most out of your BNI membership. Topics will range from BNI-specific content leveraging online platforms to general business management tips and guidance on sustaining business during this time for our professional community of BNI members.
Following the success of this series, BNI's Global Support Team have now opened up the live webinars to all "Friends of BNI" – this group includes all of your colleagues, customers, team members, vendors, friends or family who may also benefit from this content. Feel free to send this document to your "Friends of BNI" to invite them to join us for these value-packed sessions.
Don't miss the upcoming BNI® Business Booster Series webinar on May 27th and hear from Professor Stefan Thomke, Harvard Business School as he presents on The Surprising Power of Business Experiments.
Register now: https://bnionline.zoom.us/webinar/register/WN_8ju41ynvTFmNoUZWpOvNLA
The live webinar is occurring on May 27th at 1am in New Zealand. As this time probably won't suit most NZ members, you can listen to this and the many other recordings in your own time from BNI University. If you need help, don't hesitate to ask your leadership team, BNI Director Consultant or your local BNI Support office for assistance.
These are a business resource with presentations from top business leaders which is being made available to you free of charge. Why not take advantage of this rich resource – it might just give you the boost that you need. You can find recordings of past webinars on BNI U by logging in to your account, going to training, then courses and searching "business boosters".