Networking makes us "Better Together"
Having people alongside us, especially over the past few years, who are experiencing success and failures that we can learn from and spending time with people that care about us has been a major part of getting through the pandemic as best as possible. If you think about the value of networking in those terms, it's been priceless. Just think of facing the red-hot mess of the past two years on your own. And of course, we've shared referrals as well.
International Networking Week 2022 is next week, and it may be the week you've never heard of (along with Celebrate your Accountant Week) but now more than ever, let us recognise that we have, and will always be "Better Together" by celebrating it this year!
International Networking Week
International Networking Week is the perfect time to introduce networking to people who haven't had the opportunity we have had to be "better together", at the beginning of the year when businesspeople are exploring new ideas.
We may also be going into a period where we are limited in being able to meet new clients face to face so having visitors to our chapter gives us all an opportunity to meet someone new who might become a client. Celebrating International Networking Week in our chapter next week gives a perfect reason to invite guests, they will get to be interactively involved with the speed networking session and see a snippet of how we get to know, trust, and refer to each other.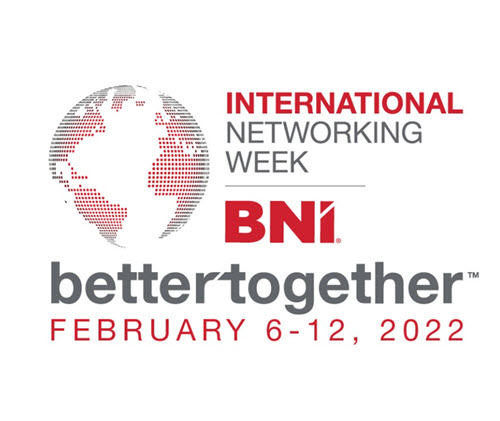 Sharing International Networking Week with others
So, how would you invite someone? Try your version of this, "Hey, were you thinking about doing some networking this year as part of your business plan?"
If they say yes: you can say "Cool, next week is International Networking Week and my networking group is celebrating it and we are inviting people to celebrate it with us. Interested?"
Then you can tell them more details. Be sure to register them through the BNI Connect App so the Visitor Hosts can do their thing. If they can't make next week, invite them for another week.
If they say they weren't thinking of doing more networking this year that isn't a hard no, they just haven't thought about it.
If they say no: you can say "Well I have been thinking about it, because It's International Networking Week next week and my networking group is celebrating by inviting people to celebrate with us are you interested to join us? "

Find your own way but it's a great way of asking without a no feeling as much of a rejection.
Speed Networking
The theme for International Networking week this year is "Speed Networking". So next week, instead of a feature presentation and the education moment, we are going to have a very quick speed networking session.
To make it work well and be meaningful we will have a shortlist of questions you can choose from to ask each other in a 60-second turnaround (face to face or in a breakout room) before you go to your next speed "date".
We will only have time for 2-3 one to ones so it will be sharp, fast and fun. FAQ: will the speed one to one's count as an official one to one? Of course, not 🙂
Summary

Celebrating INW next week is going to be fun and something different, make sure you come along ready to do some fun speed networking.
And bring a friend or two you want to share the love with.