While I'm now universally known as the "Networking Queen", I wasn't always able to connect with people and enjoy making new friends. 10 years ago I was terrified of strangers, to the point where I couldn't meet someone for a coffee, let alone attend an event and now speak in front of hundreds of people.
In fact, my first official networking opportunity was attending and joining a BNI chapter.  Just because I made that decision didn't mean it went well from the beginning.  I spent the first six meetings not making it past twenty five seconds of the allowed sixty seconds of my weekly presentations before I had to sit down. Sweaty palms, going blank, shaking, feeling faint, heart racing, frozen on the spot, hyperventilating, even blacking out on occasion was the norm.  Few people start out quite as scared as me, but so many of us struggle with networking. Do any of these sound familiar?
Are you scared to take the first step to attend events?
Have a business that you love but in-person marketing fills you with dread?
Want to make a difference in the world with your business and skills but fear is holding you back?
Don't know where to start and would relish a simple, proven process to follow?
Networking is a powerful tool to connect, engage and inspire others.  It's a great way to not only learn the skills but create an impact that is long lasting.  You can build meaningful and authentic relationships, create opportunities for partnership and collaboration and build a strong community of 'your people' to name a few.  The possibilities are endless.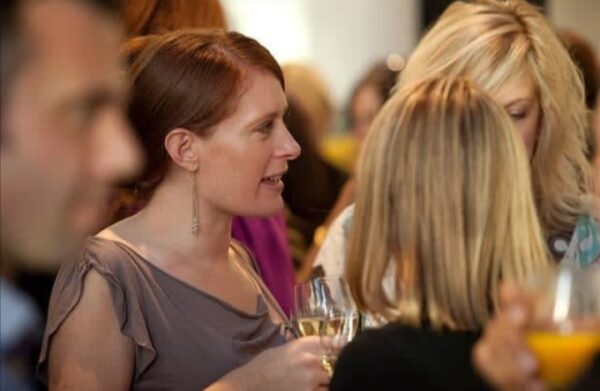 What usually gets in the way is if you feel like you're not quite sure how to attract the right people, showcase your expertise in a way that makes YOU the no-brainer choice, or establish authority in your field. If you're longing for connection with a community of other motivated, ambitious individuals who are navigating and overcoming similar challenges, and you're ready to surround yourself with the BEST support as you grow, then networking is the place for you.
To gain clarity, acquire new skills, and then apply the learning to nail in-person networking, there are 5 key skills you can nail:
The Approach – Understand the importance of preparing both mentally and physically to go to an event. Think about why you're going, what you want to achieve and who you want to meet.
The Conversation – When you can start and develop a conversation successfully and smoothly every time, you'll feel so much more confident networking. Having an elevator pitch that feels both natural and well-practiced takes things to the next level.
Moving On – Often something that catches people out, having some failproof techniques to swap contact details in a relaxed, easy flow way and get to the next conversation is a gamechanger. Create a beautiful exit strategy that works for you and feels natural.
Giving to Receive – Giving is the foundation for building trust, breaking down barriers, and cultivating long term relationships. It's only natural then that people on the receiving end want to reciprocate. All the best networkers do it. That's why BNI is so popular; Givers Gain is the game. Consider how you can build generosity into your networking.
Follow-up – A key component that most people forget or don't feel is important but will land you clients, contacts, and relationships you want is following up afterwards. Most people miss this opportunity and, in fact, the sale by ignoring this key step.
As you can probably tell I get really excited about talking networking, connecting, and building strong communities. If you want to harness the power of networking in a safe and supportive environment and learn from someone who's gone from extremely fearful to a confident networker, let's chat.
You can connect with me on LinkedIn – https://www.linkedin.com/in/carmelmurphynz/ or book a free game plan call to chat about the best way for you to nail your networking – https://calendly.com/carmel-murphy-nz