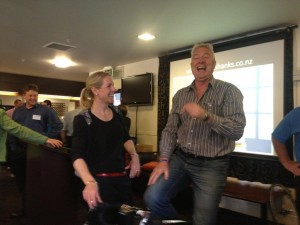 Pictured from left Ali Shanks and on the bike is Lloyd Wilson of BNI Latitude 45.
Early December saw a gathering of the BNI clans in Dunedin –BNI Otago chapters that is – at Technique Training Restaurant for the Dunedin Big Breakfast.
Attended by more than 72 members and guests, the breakfast was a chance for Dunedin chapters to come together and to raise awareness about hospice.
Presenters were Graham Southwell who spoke about BNI and working together, Lyn Chapman from the Otago Community Hospice and Alison Shanks, local and national hero, Olympic and World Champion cyclist.
Regional Director Denise Robinson said Ali wowed the meeting with a powerful presentation on her cycling wins and travelling through the world with the cycling team.
"Ali was such an inspiration. There were a few tears when she showed us the video of her and the New Zealand flag after the world championship win in Melbourne – we were all so proud to be New Zealanders.
"Ali also held an interactive event with three BNI members on her training bike, having a count down and cycling flat out for 30secs. They all just about collapsed when they climbed off!
"We passed around a champagne bucket and asked specifically for dollar notes and as a result we raised almost $400," said Denise.